Access to this area, located halfway between Okayama City and Tottori City, near the border between their respective prefectures, is easy by either train or highway bus. Tsuyama is not only the hometown of famed swordsman Miyamoto Musashi, but it also has a beautiful river running through it with the ruins of a samurai castle integrated into the city.
The surrounding area is noted for its many large waterfalls and opportunities for canoeing down mountain streams. Sportspeople from all over Japan congregate here from Spring to Autumn and stay at the eleven onsen resorts available.
Tsuyama itself is a small town still tied strongly to the past. Many of the buildings date from past centuries, and the pace of life is slow. Here you can watch while a blacksmith creates sickles and knives using his own forge, taking the red-hot metal in tongs, beating it into shape with various implements, then sticking it into a pool of water to cool it. This is a type of craftsmanship rarely seen nowadays, but if you want to see it it's free for the asking in Tsuyama.
If you have a group of 15 people or more, you can call ahead and arrange to see a display of samurai sword fighting. This is a re-enactment of the famous battle between Miyamoto Musashi and Kojiro.
Another feature of the town is a surprisingly well-stocked museum located by the tourist center. The three-story building houses various rooms with different themes: one is full of shells, another of insects, another of arctic animals, and yet another of rocks and fossils. All of these can be enjoyed while listening to Mozart over the speaker system.
While the town itself is small, if you want to stay for a couple of days the surrounding countryside won't disappoint. There are a plethora of nature-related activities to choose from. Camping, canoeing, and skiing can all be enjoyed in the season, and there are dozens of streams and hiking trails to be explored.
The Tsuyama area is also probably the best place in western Japan to enjoy waterfalls, as there are several that have unusual characteristics. There is Iwai Falls, for instance, which you can walk through and see the cavern behind. And Non-Falls, splashing over shining black bedrock, offers a one-of-a-kind contour that makes it look as though the slope were made completely of pyrite. There are many hot spring spas and resorts available in the area, and some of these are listed in the convenient English language pamphlet available at the Tsuyama train station.
Tsuyama City
The ruin of a castle with cherry blossoms overlooking the Mimasaka town, "Little Kyoto" Tsuyama has flourished as a strategic spot on Izumo Way and a castle town Visit the places with remnants of the old days
Tsuyama was built as a town on the Izumo Way in old times by the Moris. Also, it has flourished as a castle town under Matsudaira's governance. Kakusan Park, a ruin of Tsuyama Castle is known as a major cherry blossom viewing spot. You can overlook the downtown where the Yoshii River flows there. There remain the old street scenes on the Izumo Way such as Joto's old times tradesmen's house, scattered samurai residences, and temple towns. You should visit the "Shurakuen Garden", beautiful gardens made on orders of the clan lord.\
Kakuzan Park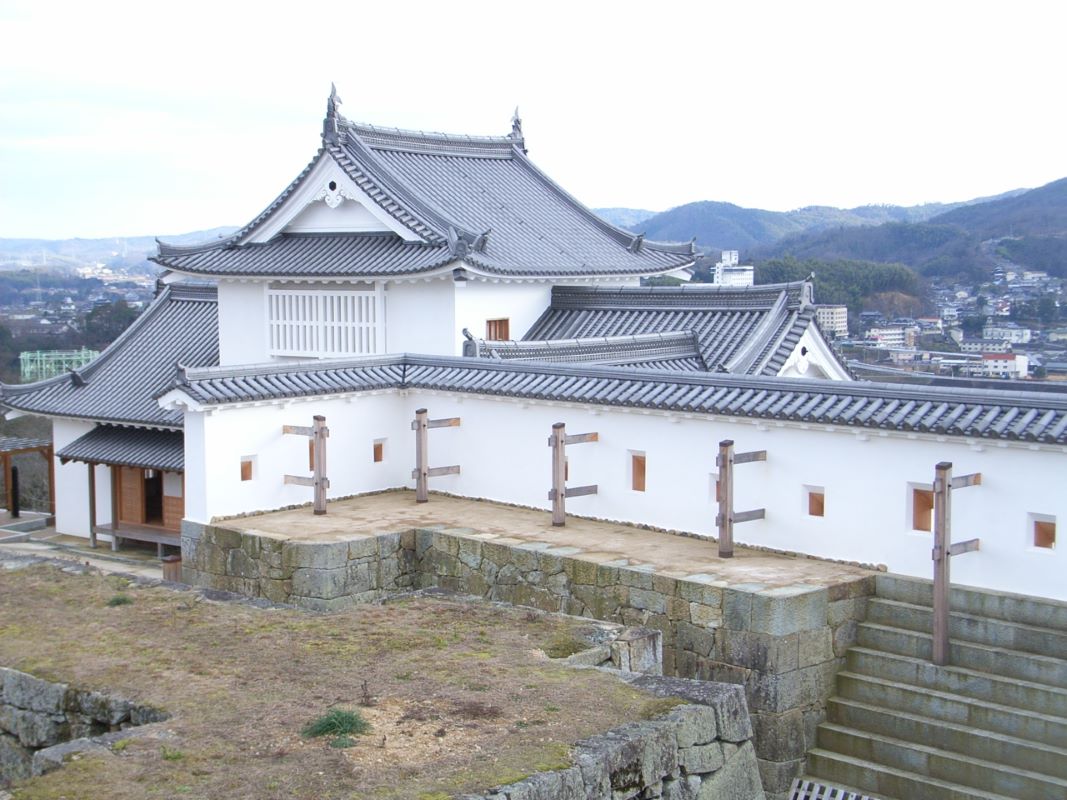 Park of the remain of Tsuyama castle which was constructed by Tadamasa Mori, a younger brother of Ranmaru Mori who died during the incident at Honnoji Temple. The castle was abandoned in 1873, the whole compound including the Tenshukaku (donjon) was broken down and only stone walls were left.
The stone walls of Honmaru (the central area surrounded by the inner moat of the castle), Ninomaru, and Sannomaru (the secondary and tertiary enclosures, respectively) combined reached the height of 45 m.
Because of the typical style of a Japanese castle, it has been designated as a national historical site.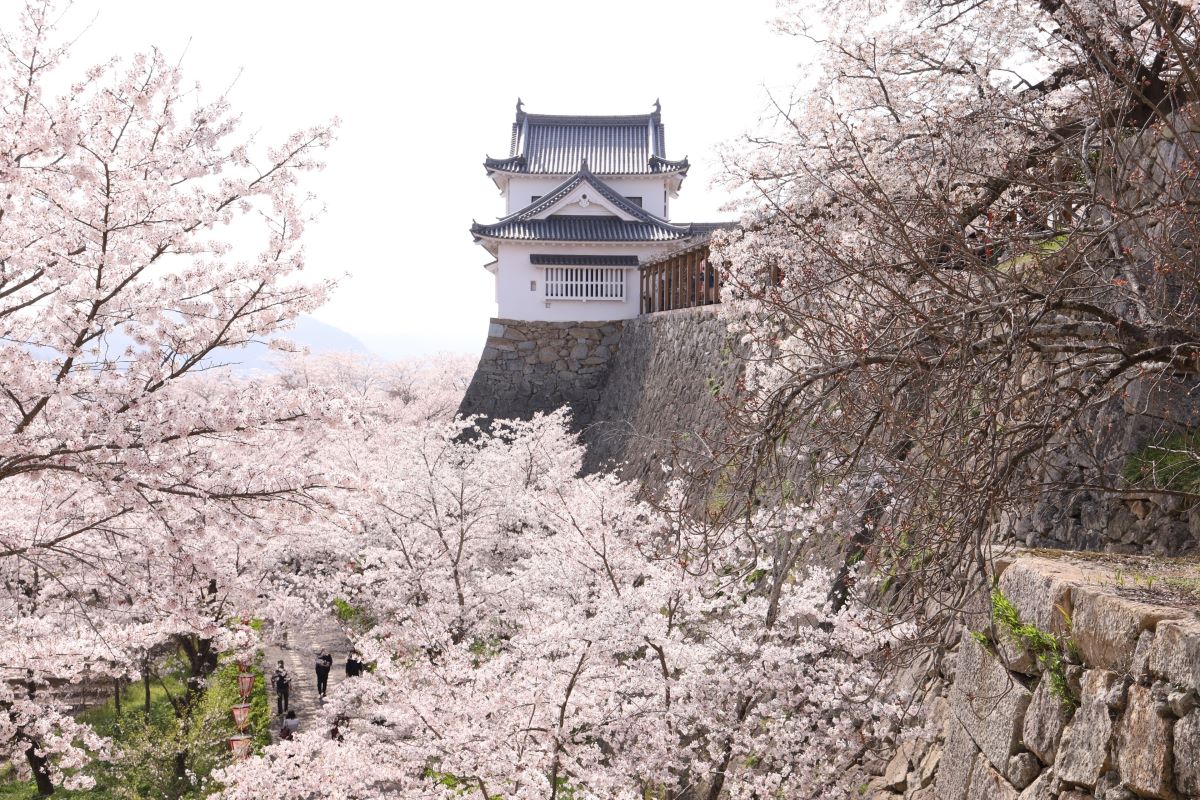 In spring, 5,000 cherry trees produce masses of flowers throughout this park, and this park has also been designated as "the 100 best cherry blossom-viewing spot in Japan." Wisteria, azalea, autumnal colors of the leaves, and the landscape of snow are also pleasing to visitors' eyes through all seasons.
Tsuyama Wonder Museum
This museum was opened as a natural science museum centered on stuffed specimens of rare animals of the world. Stuffed animals are displayed in diorama style against landscape pictures, and bring the feeling of real animal lives in nature. There are approx. 850 specimens in this museum. In particular, the place where rare and hard-to-find animal specimens including the golden snub-nosed monkey, Indian Lion, clouded leopard, snowy owl, sloth, white bear are gathered will give you a tremendous impact.
Sakura Shrine
This shrine is sacred to Emperor Godaigo and Takanori Kojima. It is also said that this is a ruins of Anzaisyo (villa) where Emperor Godaigo stopped over during his banishment to Oki due to the battle of Genko occurred in 1331. In this shrine, there is an anecdote that when Emperor Godaigo was depressed, Takanori Kojima crept into this shrine while escaping from security guards, and wrote character-crossed Chinese poem on the body of a cherry tree to solace him. This anecdote is famous and described in "Taiheiki" story (records of battles in the Muromachi era).
Joto Old houses
In the castle town Tsuyama, the old post station in the east of Tsuyama castle ruins is called the Joto area, where Namako kabe (the walls covered with square tiles jointed with raised plaster) and old merchant houses consisting the barred lattice line along the old Izumo road.
Rows of houses where old houses such as Sake, paper, and sickle merchants'houses line in 1.2 km range has been designated as a prefectural rows-of-houses preservation area. Among them, the birthplace of Genpo Mitsukuri, a clan doctor who was active in the end of the Edo era, also stands. This area is famous as location sites of the film "Otoko-wa-tsuraiyo, torajiro kurenai-no-hana" (It's tough to be a man, Torajiro and red flower), and "Aguri" which is a morning TV drama series of NHK (Japan Broadcasting Corporation).
Tsuyama Tourist Center
If you get brochures this center published or listen to the introductions of sightseeing spots by the center's staff, you can fully enjoy the sightseeing in Tsuyama city. In addition, not only tourist information of Tsuyama city, but also the tourist and restaurant information of the north part of the prefecture including Okutsu, Yubara and Yunogo area is also available. Furthermore, the Internet service section has been made to search for the information including restaurant "Yoshino" where you can enjoy local foods, locations of the rental bicycle, and the tourist information. For buying gifts such as handmade folk crafts, local specialties, local sake, local specialties, and Japanese sweets, the local specialty section in this center is recommended.
Shurakuen Garden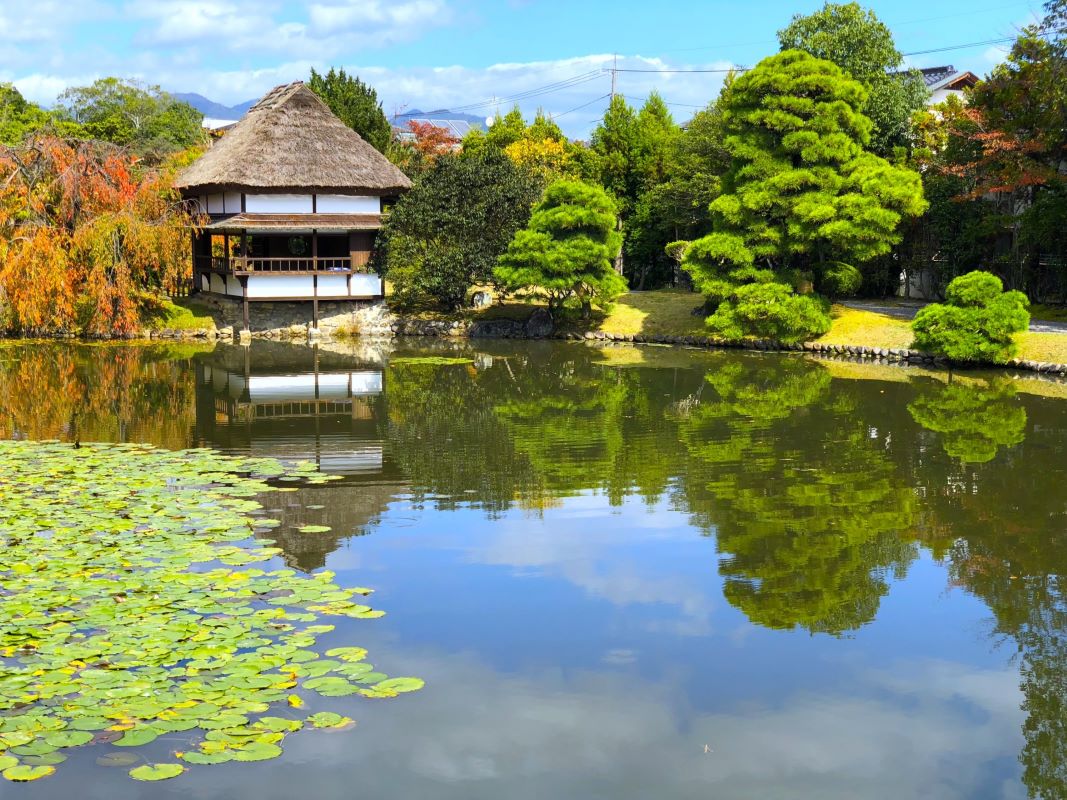 This garden was constructed in 1657 by Osatsugu Mori, 2nd load of the Tsuyama clan, modeled after the garden of Sendo-gosho (palace) in Kyoto. In this load's garden, four rocks are arranged in the long pond from north to south, resembling as if it looks like Chugoku mountain area by using its trees or rocks. Because of its modern Chisenkaiyu (circular pond) styles, this garden has been designated as a national scenic beauty.
In the Tsuyama clan, emissaries from other clans were welcomed here, not in the castle. Therefore, this garden was called "Gotaimensyo" (the place for seeing emissaries in person). The name "Shurakuen" was given when the shogunate was overthrown in the Meiji era and opened publicly. The cherry blossoms in spring, azalea, autumnal colors of the leaves, and landscape of snow in winter are beautiful here in this garden.
Hiruzen Heights
Hiruzen Heights which extends on the foot of Mt. Hiruzen is one of the best highland resorts in west Japan. Cow barn with red roofs and silo Cows browse in the ranch with rows of poplar trees.
You can enjoy various sports in this resort Hiruzen Sanza is located across the boundary of Okayama and Tottori with gentle slopes.
Hiruzen Heights located in the Kawakami and Yatsuka villages on the south foot of Hiruzen Sanza is the area where you can enjoy all seasons, such as hiking or summer resort in summer and skiing in winter.
The row of poplar trees standing in the peaceful ranch is impressive. There are sufficient lodging and leisure facilities such as a small amusement park, herb gardens, and a ranch of Jersey cows. You can enjoy horse riding.
Enjoy The Scenic Train Ride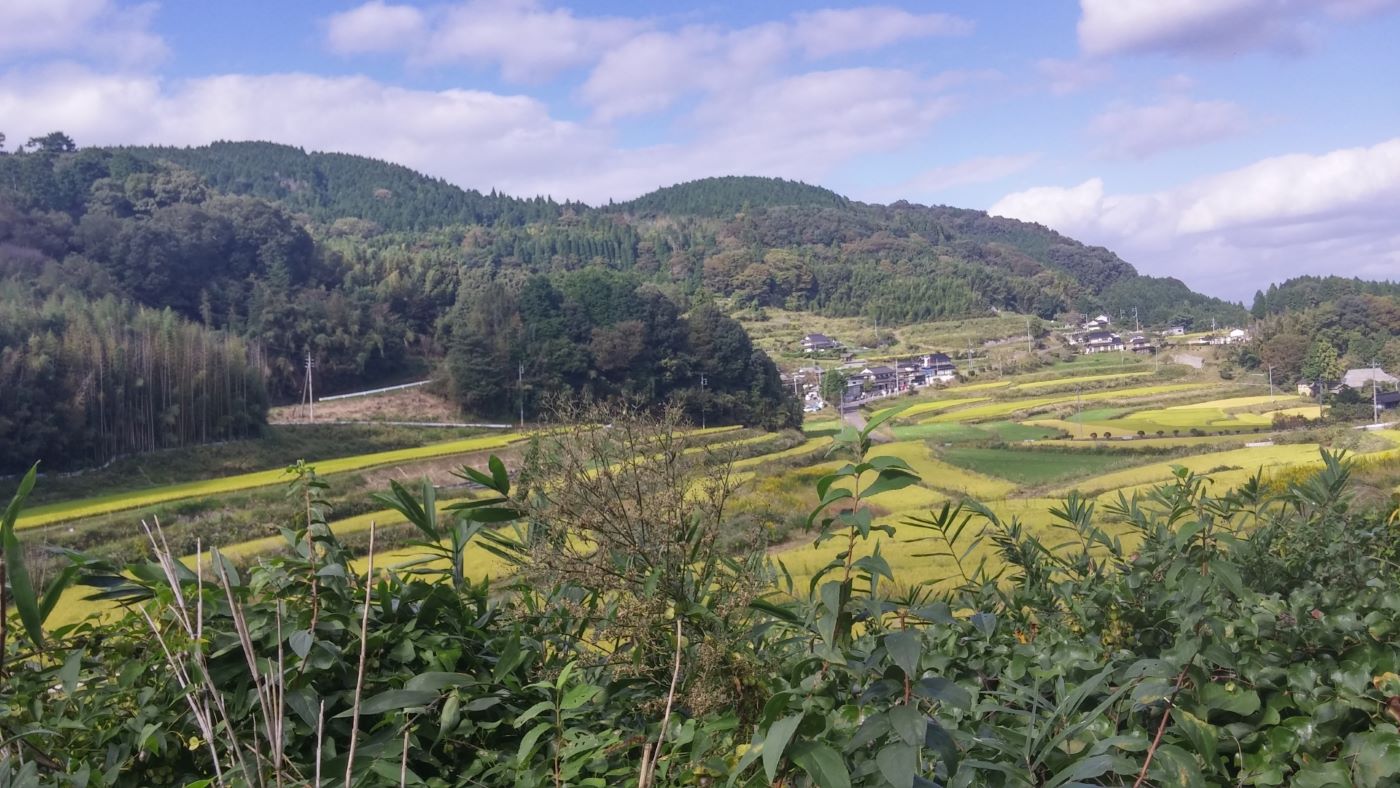 From Okayama city you can take an hour-long express train ride to Tsuyama, near the prefecture's northern border. The ride itself is scenic, winding at times between the verdant hills along the Asahi river valley. This is rural Japan at its best, with terraced rice fields, small rivers, and rustic bridges lending contour to the landscape. Houses with scoop-tiled roofs dot the countryside, along with the occasional comparatively grandiose town hall or civic center. Fields of rice show green, yellow, or brown depending on the season, and mist hangs over pine-filled hilltops.
From Okayama Airport
Tsuyama
:
About 67 min. by a connecting bus (four services a day)
Katsuyama
:
About 94 min. by a connecting bus (two services a day)
Mimasaka
:
About 67 min. to JR Tsuyama station by a connected bus About 23 min. to JR Hayashino station from JR Tsuyama station by JR Shinki line
Hiruzen-Kogen
:
About 67 min. by a connecting bus (Four services a day)