Gardens are a delight anywhere, but in the Orient, they have a unique ability to merge both cultural attributes and landscape aesthetics into a pleasing and instructive whole. Western Japan offers a wide variety of gardens to view, many of them nationally renowned. In fact, it's fair to say that you could make an entire trip out of just visiting gardens and never get bored.
Korakuen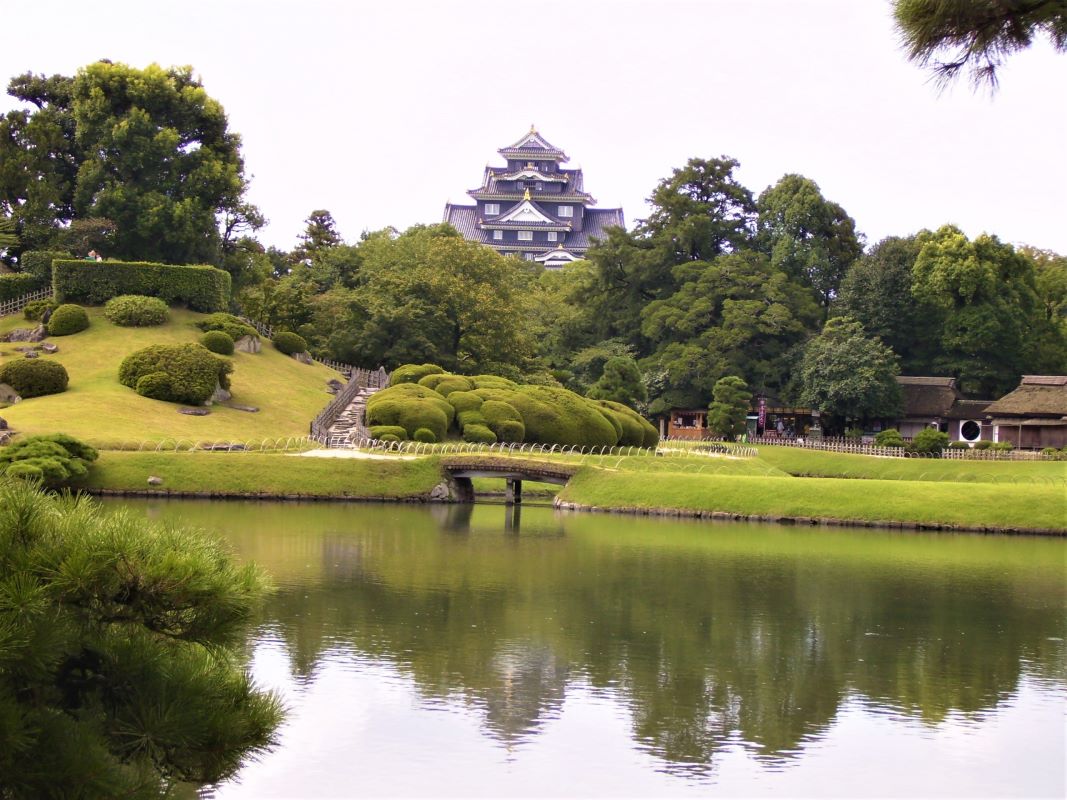 Start with, Korakuen garden in Okayama is a world-class garden that is recognized as one of the "three great gardens of Japan". Illuminated for certain periods during the summer, it becomes the "Genso garden" and presents a fairytale landscape at night.
Located next to Okayama Castle, this enormous garden occupies more than ten square kilometers and visitors can easily spend an entire day taking in its sights.
Shukkeien
Hiroshima has many gardens of its own. One of the most distinctive is Shukkeien, a miniature garden based on a landscape garden in China. While much smaller than Korakuen, visitors are uniformly delighted with the exquisite layout and balance that the garden has achieved.
Carp and turtles swim in the hourglass-shaped pond, and tourists can sit in the small open-air pavilion and gaze at the carefully constructed landscape for as long as they like.
Chofu Tei-en
Further down the coast, Shimonoseki has the Chofu Tei-en , a garden created from the land surrounding a former samurai's residence. This tranquil spot clearly shows how the warrior class used to relax, and it's easy to imagine the samurai strolling about his grounds, using them for contemplation as a balance to his life of service and combat.
Hagi
In Hagi, the gardens inside the old feudal lord's castle are still largely intact and offer a somewhat grander scale. Here, if you come in the spring, you can see an extremely rare green cherry blossom tree. For some reason, this tree's blossoms are green rather than the usual pink or white, and it may be the only spot in the world where this happens.
Ikouji – Masuda
In addition to a manyo garden, Masuda offers Ikouji, a nationally famous Sesshu-style garden. (Sesshu himself was actually the fifth head priest of the temple here.) Based on a particular type of Chinese landscape painting, this unusual garden is more vertical than horizontal and offers a sort of geometric topiary for display.
The Many Gardens Of Matsue
Matsue has many gardens to choose from, but there's really no need to choose – you can see them all if you like. Matsue castle has a large flower viewing area, and the Tiffany Museum, named for the master of Art Nouveau, Louis C. Tiffany, boasts several acres of garden, much of which can be seen in comfort even on rainy days from the security of over 500 meters of covered walkways.
There Are Many More Gardens
The above are just a few of the more famous examples of Japanese gardens, but every city has its own gardens to exhibit, and all of them are carefully maintained and offer moments of serenity and refuge from the hustle and bustle of the modern world.
Japanese people use their gardens for spiritual renewal, and you may find that they work just as well for you. If you come to Japan, this is one aspect of the culture that you won't want to miss.